Massage – Human Touch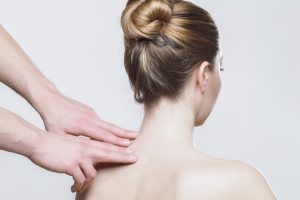 We have two types of massage clients, the ones that come in when they are suffering with pain and are hoping  for relief and those that come regularly, just because.
So often in our high tech world, our interactions with other humans are via email or social media. As a therapist, I feel that there is a little bit of magic that happens during a massage treatment. It's human touch. There is so much trust placed in us as therapists really and genuinely I feel lucky that I can help people feel lighter, relaxed and minded.
I couldn't tell you how many clients have come down the stairs here in the salon following a massage treatment with any of our therapists and they are almost groggy with relaxation. But guess what? Apart from the feeling of wellbeing there are many other benefits!
All the movements, be it kneading or effleurage stimulate both your circulatory system, bringing oxygen and nutrients to the muscles, ligaments and skin, and also the lymphatic system which helps to drain away toxins and carbon dioxide from the same areas.
While more research is needed to confirm the benefits of massage, some studies have found massage may also helpful for:
Anxiety
Digestive disorders
Fibromyalgia
Headaches
Insomnia related to stress
Myofascial pain syndrome
Soft tissue strains or injuries
Sports injuries
Temporomandibular joint pain
We offer Swedish and hot stone massage here at Lady G, these massages are ideal for helping to relieve tension and relax. They can be helpful following treatment by physiotherapy or other therapeutic treatments as a way of maintaining wellness. If however you are suffering with severe or chronic pain, it is vital that you seek medical attention.
If you would like to book in for a massage at Lady G you can book online here:
http://ladyg.ie/book.php Or call us on 01 2872311
We are also delighted to have Shirin from the Sports Massage Clinic offering sports and deep tissue massage for those of you that need more therapeutic massage…
At the Sports Massage Clinic our speciality is sports and deep tissue massage.
Sports massage is a form of massage that addresses problems and imbalances in the soft tissues of the body (muscles, tendons and ligaments). These problems can be caused by repetitive and strenuous physical activity and trauma. For the sporty person, sports massage may assist in the prevention of injuries and help with recovery and more efficient training. The benefits of sports massage are not just aimed at the sporting population, they are far reaching and can help muscleoskeleteal complaints such as pain and tension in the neck and shoulders from sitting at a desk for work.
Deep tissue massage uses deep friction techniques to target knots and adhesions on tired and aching muscles, this popular massage has proven very successful in reducing tension while maintaining the relaxation effects of massage.
Each treatment is always tailored to the individuals needs and a thorough consultation is carried out to discuss the issues that need to be addressed and the clients expectations of the treatment.
For more information visit thesportsmassageclinic.ie  or email info@thesportsmassageclinic.ie.
Thanks for reading,
Orla